Copper Top Equestrians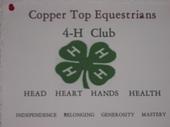 Here is the final t-shirt design for the 4-H! Thank you Shannon & Mary! We are in the process of hearing back from our group members and then I will hopefully being looking for a place that can create the shirts for us!

THANK YOU to everyone who donated their time to educate our youth!
THANK YOU to everyone who came to the clinic, you made it a great sucess!!

Below are some pictures that were taken throughout the day!